Green Housing Technology
OPTIMIZING EXISTING BUILDING TECHNIQUES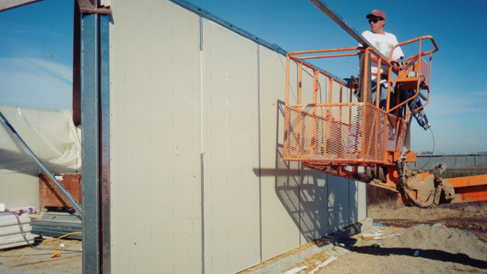 Standard E-Board dimensions are 2 1⁄4″ x 32″ x 8-12′ (Metric 5.71 cm x 81.28 cm x 243.84 – 365.76 cm). E-Board can be used in the construction of virtually any structure. E-Boards, combined with light steel framing, provide structural integrity and easy assembly. Enviro Board will roll-form the required steel studs out of recycled steel in the same plants that manufacture the E-Boards so as to join the two processes in one labor saving automated manufacturing process. The manufacturing process provides for recycled steel studs to be adhered on each E-Board (vertical alignment). Light steel header and footer channels are adhered to the top and bottom of each panel thus creating a picture frame of steel.
THE ENVIRO BOARD SYSTEM REDUCES CONSTRUCTION COST
E-Boards require 50% fewer studs in the assembly of all built structures. E- Boards can be used in a single wall or double wall system depending upon regional insulation and climate conditions. E-Boards replace traditional building materials such as; drywall (gypsum board), fiberglass insulation, exterior particle board (OSB), concrete block and clay brick. Construction costs for builders are also reduced by as much as 50% due to reduced set-up and installation process time.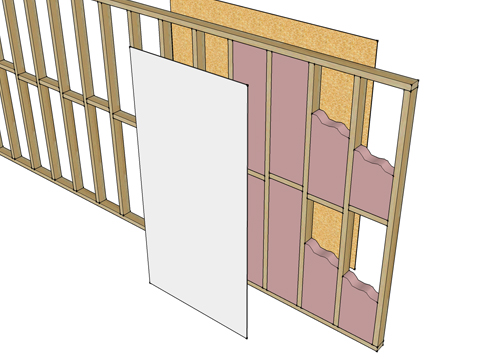 Typical wood framing technique.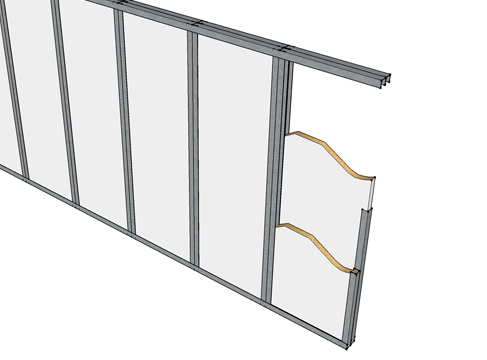 Enviro Board light steel framing system.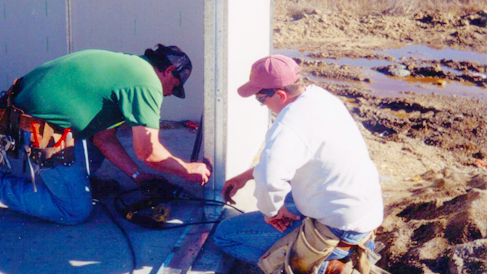 Enviro Board structures utilize a light steel framing system to hold the fiber-panels in place. The Enviro Board panels are then used for flooring, interior and exterior walls, ceiling, as well as roofing, if desired. Typically a single panel wall system or a double panel wall system (with or without additional insulation) is used. This is determined by climate and weight-bearing requirements.