Mark II Fiber-Extrusion Mill Purchases
PROSPECTIVE MILL PURCHASERS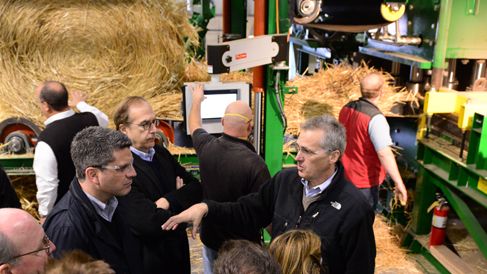 Enviro Board is seeking companies and/or state and nonstate agencies which have a track record in the development of homes, commercial properties and/or infrastructure. Such prospective mill purchasers must demonstrate the capacity to introduce new manufacturing technologies in their preferred market while promoting non-standard housing products to prospective home buyers.

LICENSE AGREEMENT & MILL TRANSFER PROCESS AND TIMELINE
LICENSE AGREEMENT
MILL FINANCING APPROVAL PROCESS
SITE EVALUATION AND STRAW COLLECTION SETUP
MANUFACTURE MARK II MILL
TRANSFER AND DELIVER MILL
SETUP & INSTALLATION OF MILL
CONSTRUCTION OF MODEL HOME
TRAINING OF KEY OPERATIONAL PERSONNEL
MILL COMMISSIONING CERTIFICATE
1 MONTH
3 MONTHS
1 MONTH
3 MONTHS
1 MONTH
2 WEEKS
3 DAYS
2 WEEKS
1 WEEK OF OPERATION
LICENSING TIMELINE EXPECTED TO BE APPROXIMATELY 10 1/2 MONTHS
*Site Evaluation and Straw Collection Setup – may begin during "Mill Financing Approval Process" for compressed schedule.