Glenn Camp
CO-FOUNDER, CO-CHAIRMAN, CO-CEO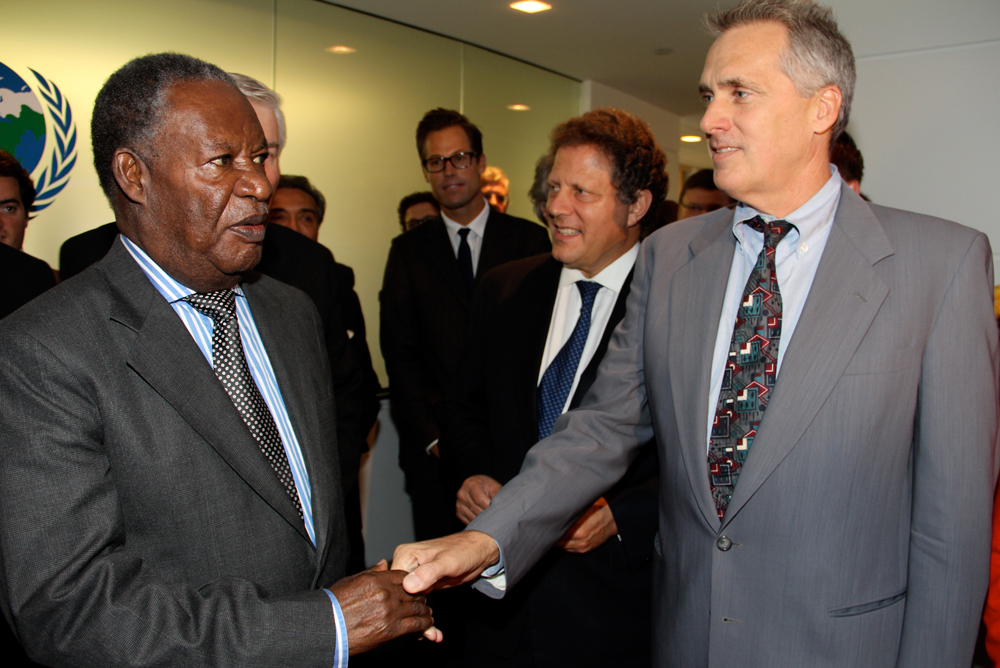 President Sata of Zambia and Glenn Camp
GC
Glenn Camp has represented Enviro Board in various capacities, including a presentation before the United Nations Centre for Human Settlements (Habitat) in Vienna, Austria on the subject of "the role of the private sector in housing supply and environmentally friendly construction practices," during which Enviro Board was also awarded the UN's "Dubai International Award for Best Practices in Improving the Living Environment". Mr. Camp was a guest speaker in Dubai at the Education Without Borders conference – a biennial international student conference that creates networks across cultures in order to understand and generate solutions for some of the world's greatest challenges. Mr. Camp was also a guest speaker for the Iacocca Institute at Lehigh University's Global Village program that brings over 100 young leaders from over 40-countries for six weeks of applied management and diversity training.
Prior to his involvement with Enviro Board Corporation, Mr. Camp co-founded the Los Angeles business management firm, Camp & Peiffer, which represented high profile entertainment clients and developed financial and estate planning strategies for private individuals and corporations.
ENVIRO BOARD WAS ALSO AWARDED THE UN'S "DUBAI INTERNATIONAL AWARD FOR BEST PRACTICES IN IMPROVING THE LIVING ENVIRONMENT".
In 1981, Mr. Camp, along with Mr. Peiffer, also co-founded Colonial Financial Corporation, a secondary broker dealer that arbitraged government securities. At the time the company was sold, it maintained a portfolio of $90 million.
Mr. Camp founded Prodigy Trading Group, an international trading company with offices in Los Angeles and Amsterdam. The company traded almost exclusively with the former Soviet Union and Eastern European-Bloc countries and opened these markets for many companies whose products were not available in the West and whose currencies had no exchange value. Through Prodigy Trading, staple products such as milk and food were supplied in exchange for furniture, textiles, technology and medical supplies. Prodigy Trading also provided humanitarian relief and commerce to many countries whose foreign policies were restricted by East-West détente including orphanages in Romania.
PRODIGY TRADING ALSO PROVIDED HUMANITARIAN RELIEF AND COMMERCE TO MANY COUNTRIES WHOSE FOREIGN POLICIES WERE RESTRICTED BY EAST-WEST DETENTE INCLUDING ORPHANAGES IN ROMANIA.
As a Board Member of Eastern European Seminary, headquartered in Vienna, Austria, Mr. Camp worked with leaders of the underground Church behind the "iron-curtain" to distribute banned theological books throughout the Eastern Bloc.
Mr. Camp is a Certified Financial Planner (CFP) from the College of Financial Planning, Denver, Colorado and has been a licensed private pilot since the age of 19. He is also a member of the National Eagle Scout Association and is listed in the Eagle Scout Roll of Honor Directory. Mr. Camp attended the University of Southern California and California State University Northridge majoring in Business Administration and Finance.